My name is Anahi Vehi Mena and I was born in Cadaqués. I graduated in Veterinary Science from the University of Zaragoza in 2009. During my university studies, I completed various training courses, conferences and work placements in veterinary clinic.
Having finished the degree, I have been doing refresher courses on different practical and theoretical matters with a focus on veterinary clinics for small animals.
Highlights of my training include:
Postgraduate course on veterinary cardiology. Improve Iberica, 2010
Course on cardiac ultrasound: cardiac Doppler, diagnosis and monitoring of acquired pathologies. SCIL, 2012
Course on laboratory and cytology diagnosis: coagulation and haematological diagnosis, new markers and biochemical diagnosis, cytological diagnosis, tumour markers and workshop on echo-guided biopsy and metastasis. SCIL, 2012
Course on comprehensive abdominal ultrasound. SCIL, 2012
Course on cardiac ultrasound: comprehensive cardiac echo exploration. SCIL, 2012
General Practitioner Certificate in Cardiology. ESVPS (European School of Veterinary Postgraduate Studies), 2013
"Practical fluid therapy in cats and dogs" course. Quadam, 2015
"Ophthalmological symptoms in cats and dogs" course. Quadam, 2015
Course on cardiology in small animals. Novotech, 2015
 "Medicine in birds" course. Quadam, 2015
Course on Feline Medicine. Novotech, 2015
Postgraduate course on Surgery and Anaesthesia in Small Animals, UAB, 2016.
I have worked as a veterinary surgeon at:
 "Dierenkliniek van der Wolf" Veterinary Clinic. Vlissingen, Holland
Vetàrea Veterinary Clinic. Maçanet de la Selva
Del Ter Veterinary Clinic. Torelló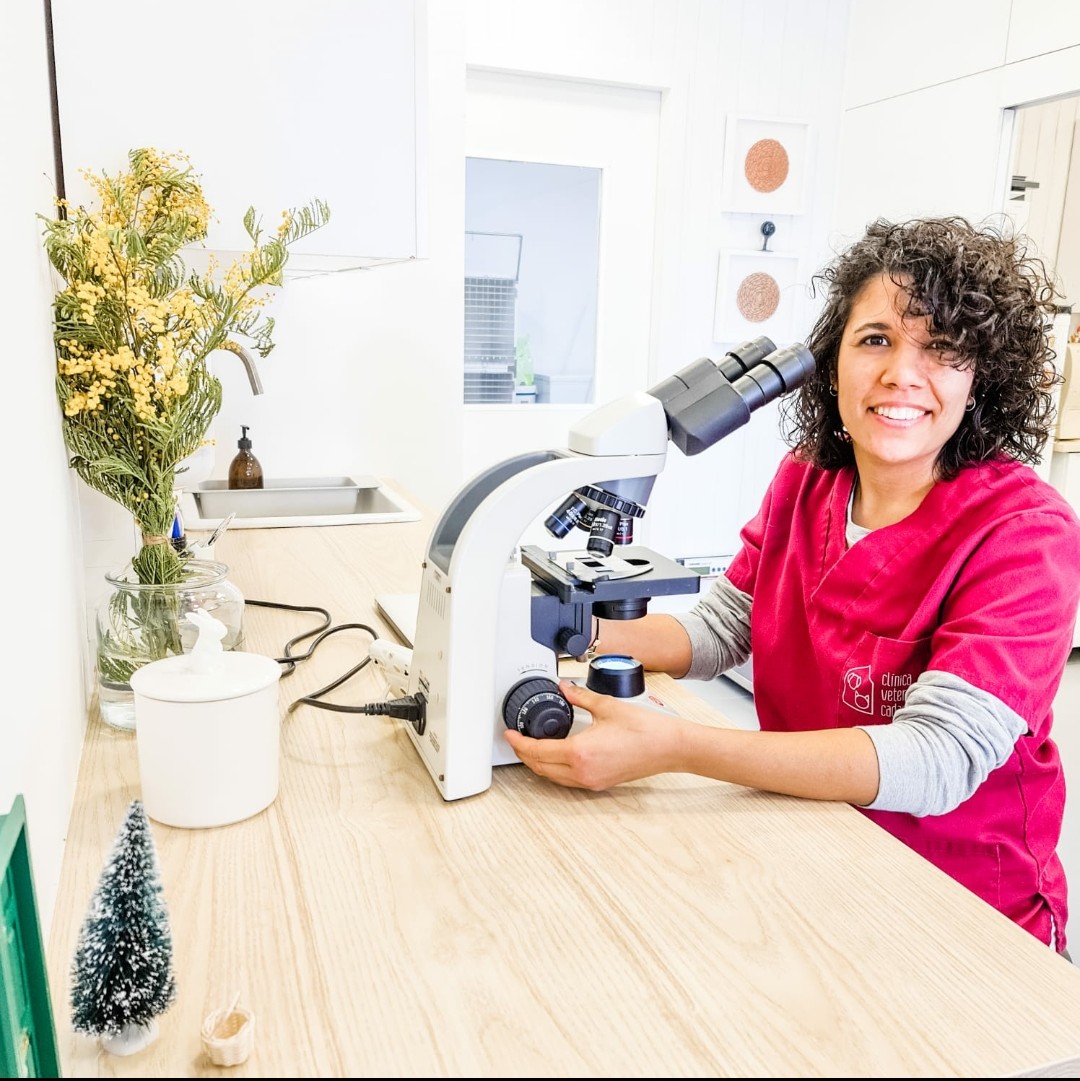 EQUIPMENT
MICROSCOPE for quick diagnosis of skin, nodules or blood
Comprehensive CLINICAL TESTS, immediate biochemical and blood panels
ULTRASOUND and RADIOGRAPHY for patients requiring more specific diagnostic tests
OXYGEN CABIN for respiratory emergencies
DAY HOSPITAL for animals that require it, equipped with infusion pumps for the administration of intravenous fluids and medication
OPERATING ROOM fully equipped with gas apparatus and multiparametric monitors that control patients' vital signs during their surgeries
ULTRASONIC APPARATUS for animals requiring dental cleaning
AUTOCLAVE to have completely sterile material at all times
THERAPEUTIC LASER is a non-invasive and painless medical treatment. It promotes blood circulation, accelerates tissue regeneration, reduces inflammation and relieves all types of pain. It is used in the healing of mucocutaneous, acute or chronic, surgical or traumatic wounds; also for musculoskeletal injuries and degenerations, such as elbow or hip dysplasia, bone fractures, herniated discs; also for the resolution of anal gland problems, perianal fistulas, otitis, gingivitis and even for gastrointestinal problems. Antibacterial and antiviral properties are attributed to it, which is why its applications are so varied.
Clínica Veterinària Cadaqués
Avinguda Caritat Serinyana, 23
17488 Cadaqués
Telf. +34 691 67 56 43
info@veterinariacadaques.com